Predictive Analytics
Dashboard for
Vancomycin Monitoring
DoseMe Cohere makes it fast and easy to identify
patients receiving vancomycin therapy who require
an intervention.
Managing a high volume of patients receiving vancomycin therapy can be a challenge on both time and resources for the provider, as well as at a health-system level.
DoseMe Cohere supports sophisticated surveillance of your patient population allowing you to improve the safety, therapeutic outcomes, and costs associated with vancomycin therapy.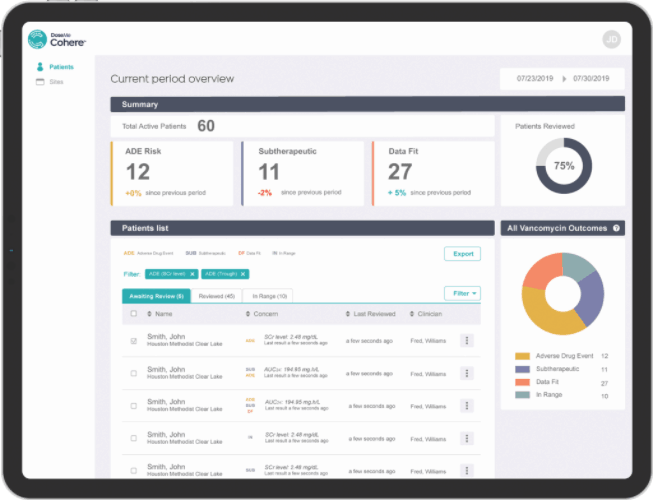 Optimize your workflow and focus on patients that require your attention the most
Designed to support clinical pharmacy and quality management teams, DoseMe Cohere allows you to quickly identify at-risk patients in real-time. Using the evidence-based machine learning intelligence behind DoseMeRx, DoseMe Cohere identifies vancomycin patients at risk of a potential adverse drug event or treatment failure using laboratory results such as serum creatinine and predicts whether any future doses will be sub- or supra-therapeutic.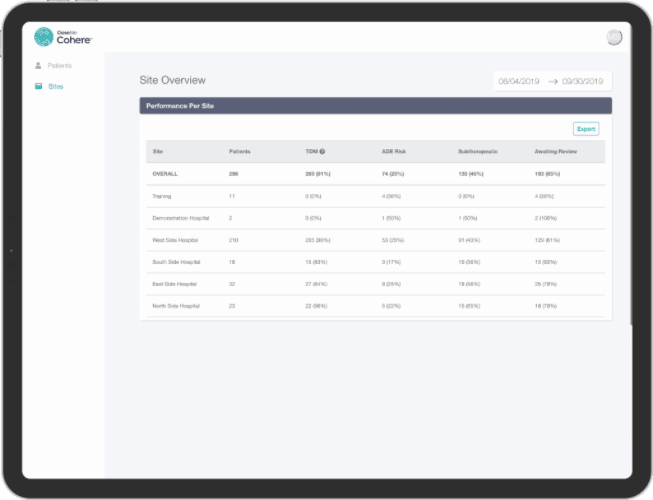 Rapid visualization of outcomes across your entire health system
Easily visualize and benchmark sites to identify inconsistencies in treatment outcomes and isolate higher risk areas that may require additional resources. Quickly produce compliance reporting and comparative analytics across units and multiple sites in seconds.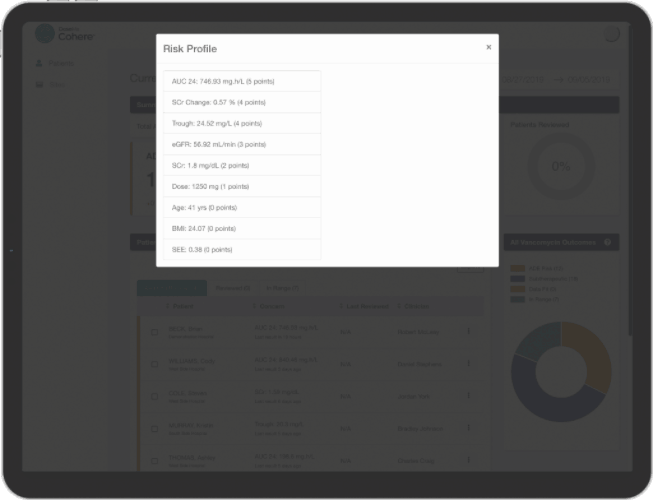 Quickly review a patient's risk profile and easily intervene
DoseMe Cohere evaluates a wide range of identified risk factors for each patient, allowing pharmacists to quickly identify relevant factors to drive a timely intervention. By extracting patient data including weight, age, height, medication history, and vancomycin drug concentrations, DoseMeRx builds a predictive model of each patient's response to vancomycin therapy. When this data is combined with charted orders, DoseMe Cohere can predict the exposure and pharmacokinetic outcome days before the dose is administered.
How it works
DoseMe Cohere works by applying DoseMeRx's machine learning in a predictive framework. DoseMe Cohere builds an individual model of each patient and predicts the outcome of medication orders before they're administered – allowing intervention before any potential problem occurs.
Schedule a personal demonstration
See how easy DoseMe Cohere is to operate and integrate into your workday.
Schedule your one-on-one demonstration below. You can also phone us on  +1 (832) 358-3308 or email hello@doseme-rx.com.