How to Create a Vancomycin AUC-based Protocol in 5 Steps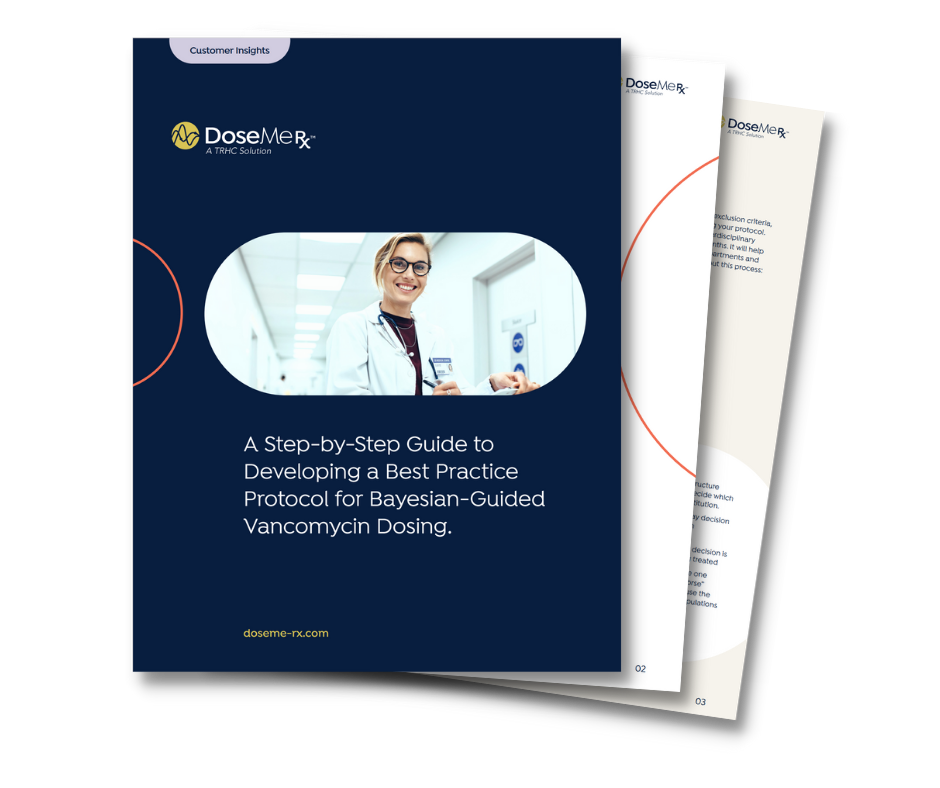 ---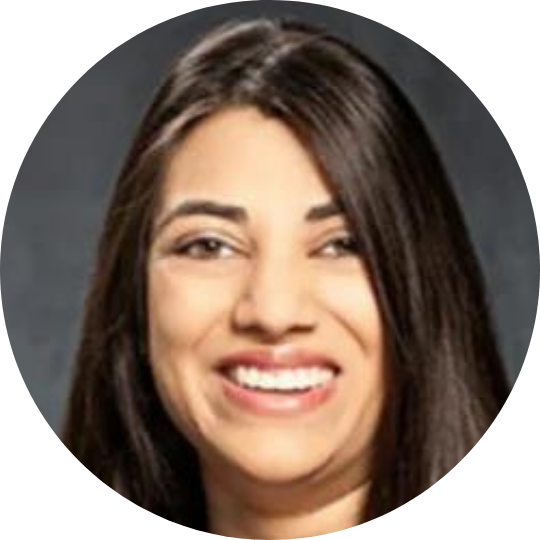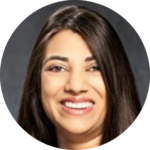 "Thinking back to our DoseMeRx experience, we've had a long and rewarding path to where we are today and I hope that sharing our experience makes your journey just a little bit easier."
– Dr. Shivani Patel
Dr. Shivani Patel, PharmD, BCPS, Clinical Pharmacy Specialist, Infectious Diseases at Memorial Hermann Health System, successfully implemented Bayesian Dosing across a network of 13 hospitals.
Their goal for protocol development, and for the implementation process overall, was to create standardization across the system, but still allow for flexibility.

The learnings don't just apply to large health system networks – it's adaptable for smaller facilities too.
Step 1: Review the 2020 vancomycin dosing guidelines and clinical data
Leverage the ASHP/IDSA/PIDS/SIDP vancomycin guidelines to provide rationale for implementing Bayesian dosing to calculate AUC.
Determine what your exclusion criteria will be – this can be flexible based on your needs. Memorial Hermann Health System's goal was to maximize the number of patients that could be dosed to AUC24 with DoseMeRx. Therefore, exclusion criteria for those that would be dosed via trough and/or outside of DoseMeRx was kept intentionally short.
Get support from other departments and keep them engaged.


"It really comes down to the people that you're engaging to build a protocol for us. It [wasn't just] the ID physicians and the ID pharmacist. We needed to get buy-in from, and to educate, nursing, lab, and IT."
– Dr. Shivani Patel
Step 2: Develop a decision pathway for evaluating vancomycin orders
Decide which of the three pathways will work best for your institution:

Renal function based: the pathway decision is based on different renal function thresholds.

Disease state based: the pathway decision is based on the infection that is being treated.

DoseMeRx model based: utilize the one compartment vancomycin model as the "workhorse" adult vancomycin model and then use the other models for specific patient populations such hemodialysis and obese adult.
Step 3: Determine loading dose and maintenance dose recommendations
Memorial Hermann Health System decided to dose with a goal AUC24 of 400 to 600 mg.h/L with only a few exceptions.
Their default target in DoseMeRx was set at 450 mg.h/L which consistently produced vancomycin dosing recommendations that kept the patients in their targeted range. In addition, they utilized loading doses in select patients.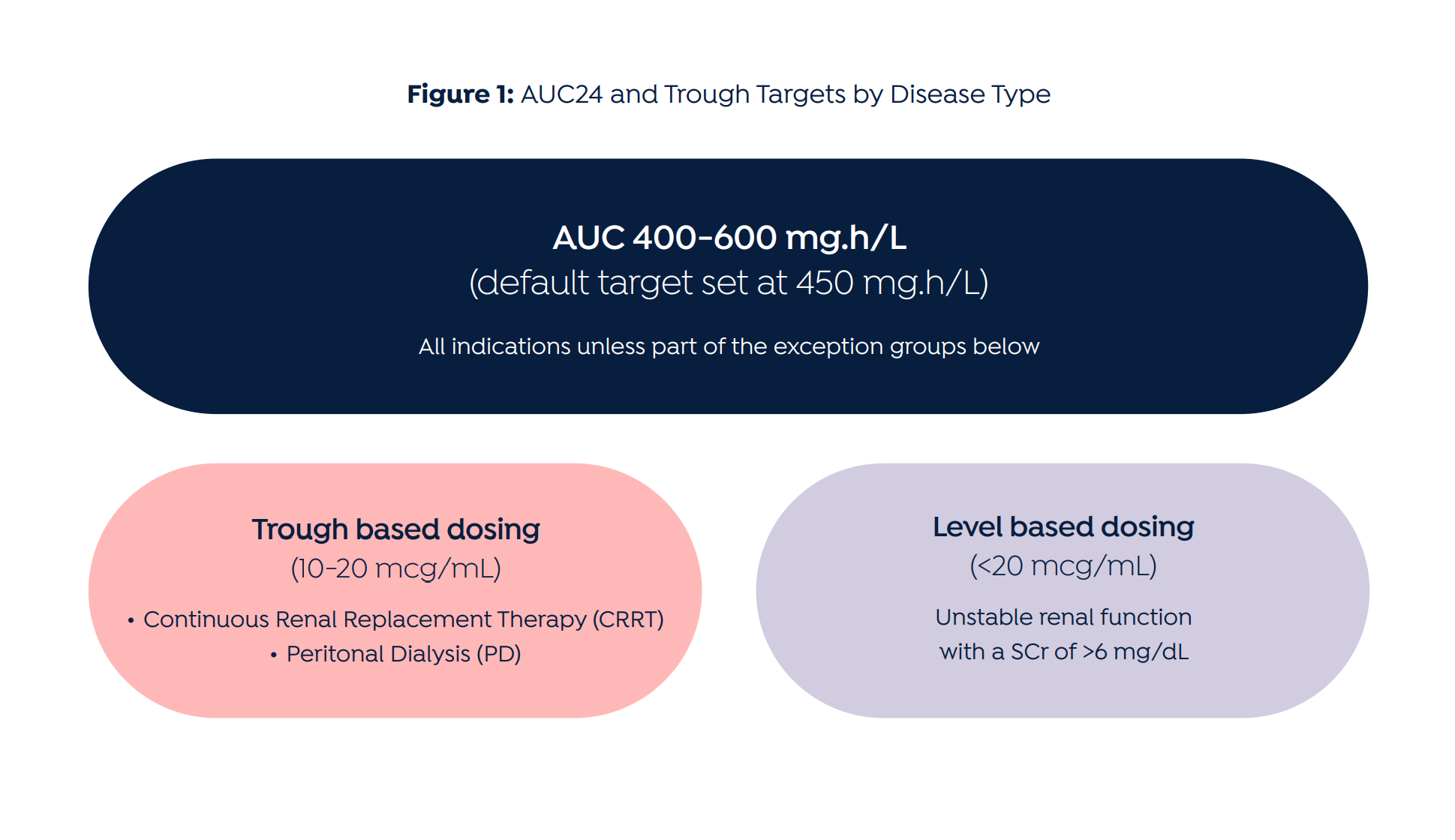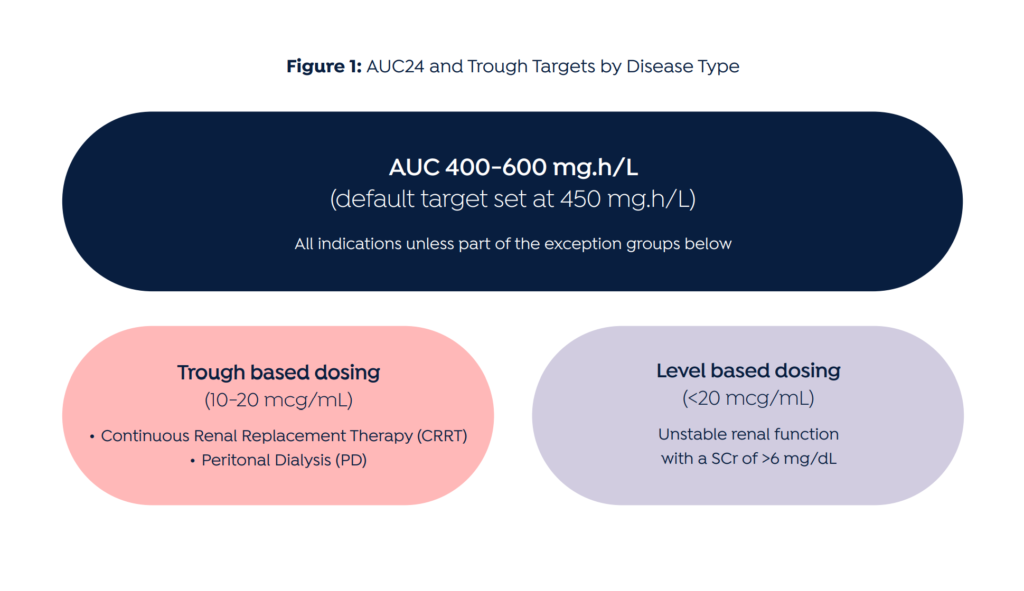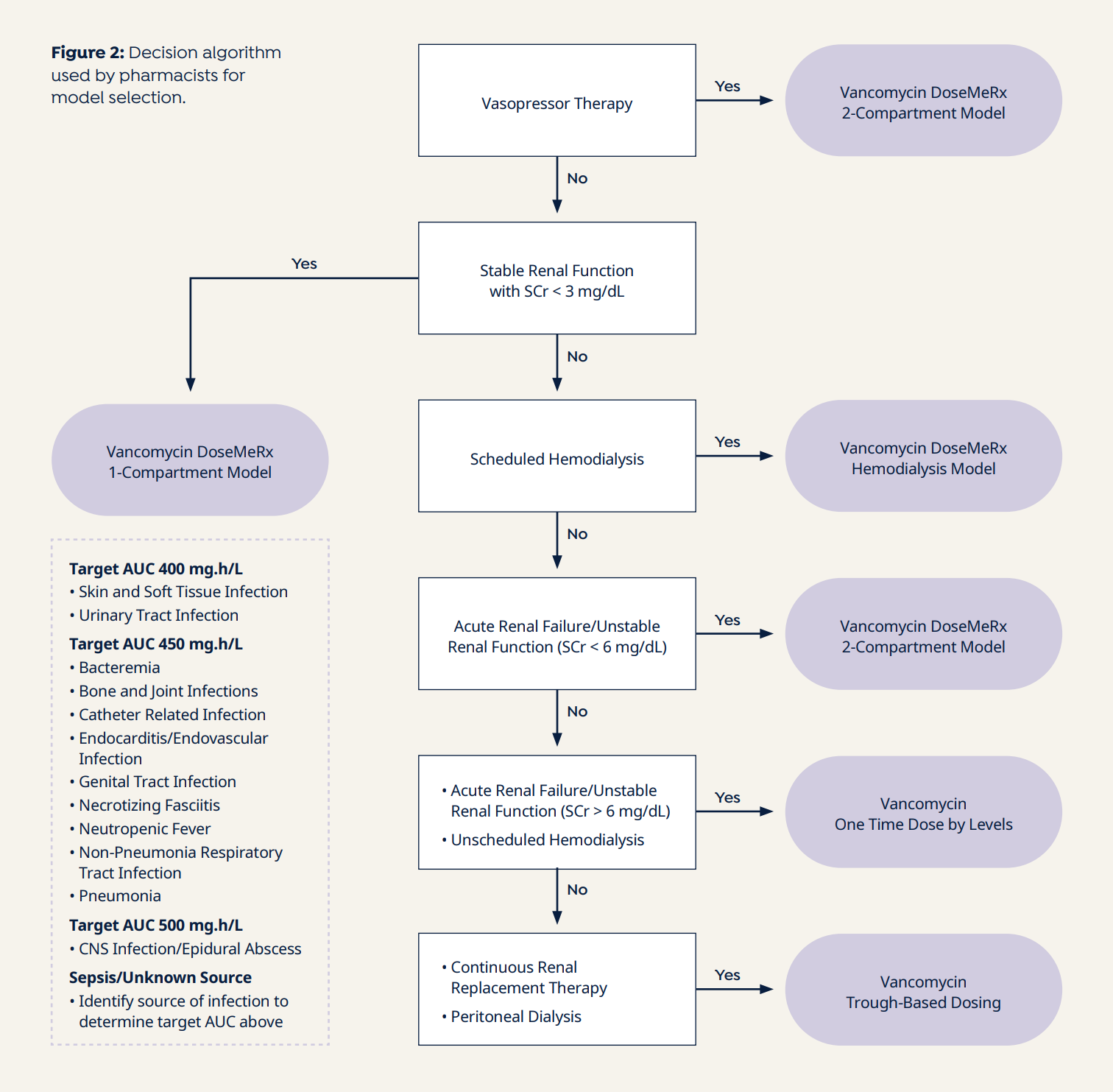 Building a decision tree can help pharmacists navigate DoseMeRx. Download the guide to view the decision tree used by Memorial Hermann Health System for guidance to create your own.
"This [decision tree] was really key for our pharmacists to be able to maneuver and make decisions on DoseMeRx."
– Dr. Shivani Patel
Step 4: Define how vancomycin levels will be drawn
With DoseMeRx and Bayesian dosing, there is no longer an attachment to drawing a level at a specific time.
Your protocol should be clear about:

when the first level should be obtained,

when to get two levels, and,

how frequently levels should be redrawn throughout the course of therapy based on indication and renal function.

Step 5: Prepare an Electronic Health Record (EHR) downtime procedure, if site is fully integrated
After following this five-phase approach, remember that your Bayesian-guided vancomycin dosing protocol is a "living document" and can be reevaluated and refined as needed.
To learn more from Dr. Shivani Patel, including why her health system opted for DoseMeRx and EHR integration, how to engage key stakeholders, and more…watch our webinar Do's and Don'ts of Bayesian Dosing.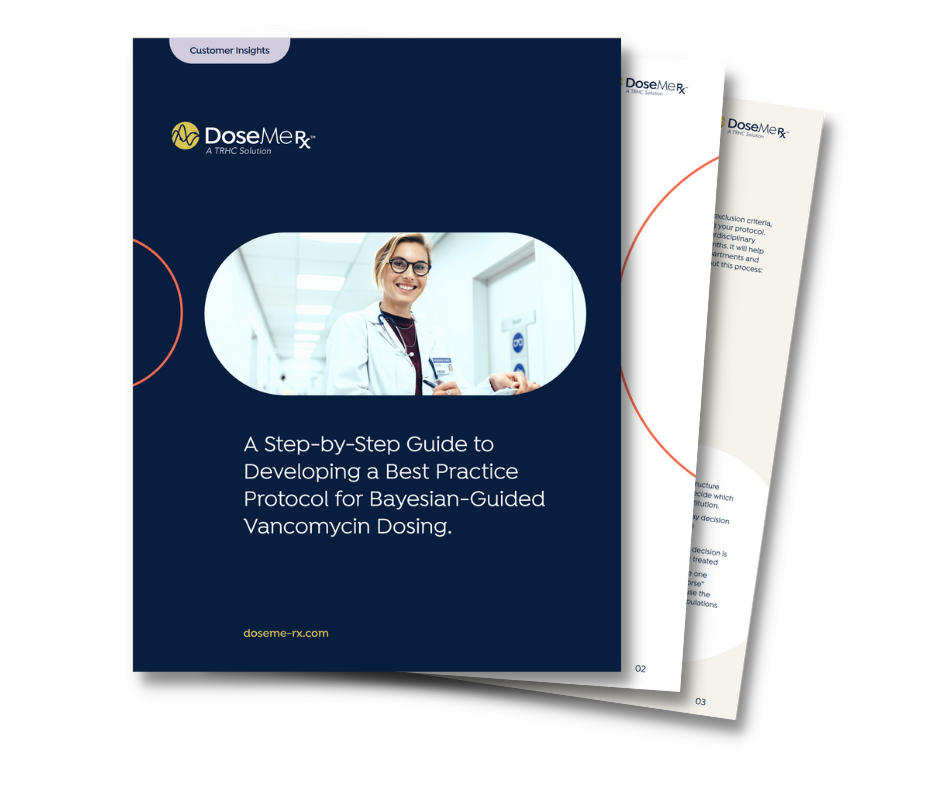 A Step-by-Step Guide to Developing a Best Practice Protocol for Bayesian-Guided Vancomycin Dosing