DoseMeRx Optimizes Vancomycin Dosing inside Epic EHR
Note: The new vancomycin dosing guidelines have been officially released. Learn what's changed and how they'll impact you by reading our guide to the new vancomycin dosing changes here.
We recently went live with DoseMeRx™ in Epic's electronic health record (EHR).
We're frequently asked about the process to integrate DoseMeRx within the EHR, particularly as more health systems move towards Bayesian dosing optimization to comply with the forthcoming revised 2019 vancomycin therapeutic guidelines.
DoseMeRx integrates seamlessly into EHR platforms by SMART® and FHIR® technologies.

It can be deployed and made available immediately, without requiring lengthy and difficult IT compatibility projects which have been known to take months and even years.
How does DoseMeRx integrate with your Epic EHR?
Using SMART® and FHIR® technologies, we integrate DoseMeRx directly into Epic EHR. This means no switching between different profiles – and no additional log in details to remember!
DoseMeRx is embedded in Hyperspace and automatically extracts the data we require to build a patient's individual pharmacokinetics and pharmacodynamics model including age, weight, dose administered, renal function and previous response to therapy.

Leveraging clinically validated pharmacokinetic drug models, DoseMeRx models how each patient is responding to therapy from as-little-as one vancomycin drug level, to quickly and accurately calculate an individualized dose for each patient to reach the desired therapeutic target.
Who needs to be involved in the implementation?
We usually get a multidisciplinary team from the hospital together that can be points of contact as we work through the integration:
Pharmacist key contact- They provide the clinical and workflow point of view to make sure it matches your institution.
Team member from your Informatics team- To assist with integration mapping specific to your hospital
Who is involved from the DoseMeRx team?
We have a customer experience specialist, a team of software engineers and our support staff available throughout the implementation and beyond.
Once the contract is signed, a representative from Epic will be assigned to the project and we will work with them throughout the process.

They coordinate the communication between DoseMe and Epic's team of developers.
What do you need to do?
Really, not very much – compared to other IT projects!

Once we have the team from your facility, we will set up a project meeting to go over your specific requirements, as DoseMeRx can be fully customized to your needs. This information helps our team as they work on your integration.

It's really a very easy process, as DoseMeRx is already integrated in Epic as a SMART app available in their app store, it's a plug and play.

We just work to make sure that DoseMeRx is set up to suit your hospitals unique workflow and requirements for therapeutic drug monitoring.
We then have a weekly touch point with your key team and Epic to make sure everything is on track.
What kind of information do we need to have available for DoseMeRx?
Since we fully customize your integration, we'll want to know about your workflow process and documentation specifics so we know how best to get DoseMeRx to fit within your workflow.
The main things we will request from your IT team or informatics pharmacist is RX Norms & LOINC codes.

Then we work together to set your drug limits and settings, for example a few of these include infusion lengths, area under the curve (AUC) and trough targets, as well as dosing intervals.
Is there any testing involved before DoseMeRx is enabled in my EHR?
As part of the customization of DoseMeRx we conduct User Acceptance Training (UAT) with your team to validate the workflows for DoseMeRx.
After the initial configuration has been completed, we provide you with patient scenarios for validation of the workflow rules and process.

This is done to ensure the workflow process we have setup for your facility perform as expected, before we finalize the integration and enable the application within your Epic Hyperspace instance.
Once the integration is complete, do you have training and support available?
Yes! We schedule training for your teams in order to set them up for success!

While the training is quick and easy, as we've worked with your team to integrate into your workflow, we are available in person or via training webinars for your various locations at any time.
We also like to train some super users so that they can be resources for your internal teams. We're available 24/7 365 after the initial trainings – you can reach us by live chat, phone or email.
What is the timeframe from contract to go-live?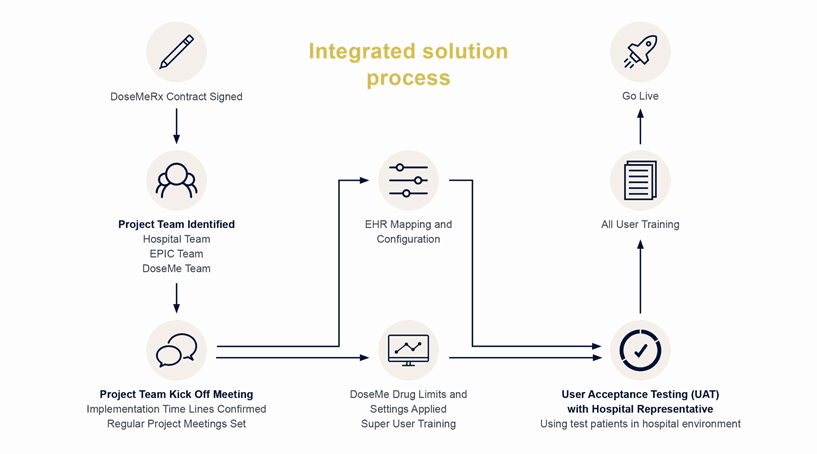 Once you decide to start using DoseMeRx, it takes just a matter of weeks for our team to complete the full integration.

We work with your team to design and implement the integration and then we train your staff at your convenience.

Remember, this requires little to no resources from the facility – as DoseMeRx's engineering team and Epic take care of everything.
Interested in evaluating DoseMeRx for your hospital?
If you are interested to discuss DoseMeRx and our SMART-on-FHIR integrations, please get in touch.

You can also access all DoseMeRx's features and drug models free for 14-days using our web-based platform. Start your free trial now →
Related Posts
Here are some more vancomycin resources for you: